iPhone Original Checking Step By Step Procedure
Can you complete iPhone original checking process from your home? Do you need to check the iPhone that you get on second hand? Is it original or not? So many questions that deserve a proper answer!
How Do You Know If Your iPhone Is Original
How to complete iPhone original checking process and what is important to know! Buying a phony iPhone can hurt your company's credibility. It can also cause synchronizing, connectivity, and functioning issues, resulting in business delays or data loss. By purchasing your iPhone directly from Apple or a participating cell phone carrier, you can ensure that it is genuine. If you decide to buy an iPhone from somewhere other than Apple, such as eBay or Craigslist, you can use the techniques below to ensure its authenticity.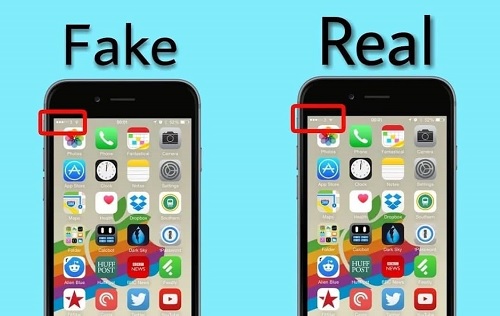 Check The Serial Number
Each iPhone is identified with a serial number. You may check whether the serial number is in Apple's database by looking it up. On the iPhone, go to "Settings," then "General," then "About" to find the serial number. Hold the screen open or jot down the number after scrolling down to "Serial Number." Enter the serial number at "https://selfsolve.apple.com/agreementWarrantyDynamic.do."
The system will tell you whether or not your iPhone is still under warranty. If the notice reaches you, "Please accept our apologies, but this serial number is invalid. Please double-check your data and try again "The iPhone is most likely a forgery.
External Clues That Can Be Seen
The iPhone is distinguished by its hardware features. If you look at the top-right corner of your iPhone, you should see a "sleep/wake" button, a "Home" button located beneath the screen, and a ringing switch and volume controls. In addition, the back of your iPhone should bear the Apple logo. Your iPhone likely is a fake if any of these components are missing or present in a different location.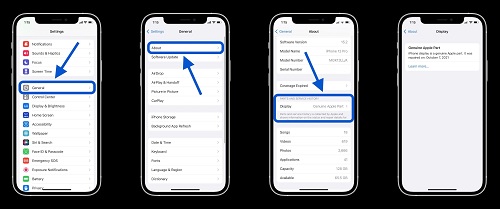 Getting In Touch With The Carrier
Only the AT&T network offered the original iPhone, iPhone 3G, and iPhone 3GS. AT&T is a GSM network, one of only two in the United States (the other being T-Mobile). It's not an original iPhone if you buy one of these older iPhone models and it's for a CDMA network like Verizon or Sprint.
GSM networks require an iPhone 4 with a SIM card slot on the right side, whilst CDMA networks require an iPhone 4 without a SIM card slot. The iPhone 4S and subsequent devices are compatible with both types of networks. Any hardware or connectivity differences indicate that the iPhone is not authentic.
Connectivity In The Network
Wi-Fi, EDGE, and Bluetooth connectivity should be available on all iPhone models. Except for the original iPhone, all variants can connect to the 3G data network. Apple Pay is on through Near Field Communications (NFC) on iPhone 6 and subsequent generations.
If you buy an iPhone that doesn't have the hardware to connect to one of these networks, it's probably a fake or was made for a different nation. If you restore your iPhone and see if the feature works, you can be sure it's not a glitch. It's most likely a fake iPhone if it doesn't work.
Getting Your iPhone To Sync
An iPhone you buy may be a fake if it won't connect to iTunes or isn't recognized by iTunes. Make sure your iTunes and iOS software are both up to date before making this decision. If you're having trouble syncing data between your iPhone and your computer, try restoring it through iTunes. After being restored, an iPhone that does not connect to iTunes or the app store is either phony or damaged.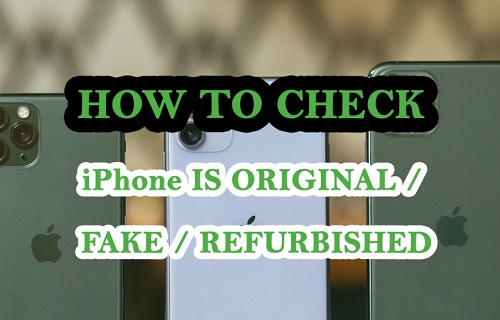 iOS Apps From A Factory
Apple-branded apps are in with the iPhone, whether they are native or built-in. These apps cannot be deleted unless the iPhone is jailbroken. "Contacts," "Compass," "Settings," "Calculator," "Music," and "Photos" are examples of built-in applications. If any of these apps are missing, the phone is either jailbroken or a forgery. Finally, entering DFU mode and reinstalling the operating system will restore the original firmware. If native apps are still absent, your iPhone is most likely a forgery.
Authorized Service Provider Or Apple Store
Bring your iPhone to your nearest Apple Store or Apple-authorized service provider if it has passed several of these processes but you still feel it is a fake. A store specialist can perform diagnostic checks on your iPhone to determine whether it is genuine or not.
Finally, all processes that are well explained above can help you to perform the true iPhone original checking process!